Valplast Flexible Partial Dentures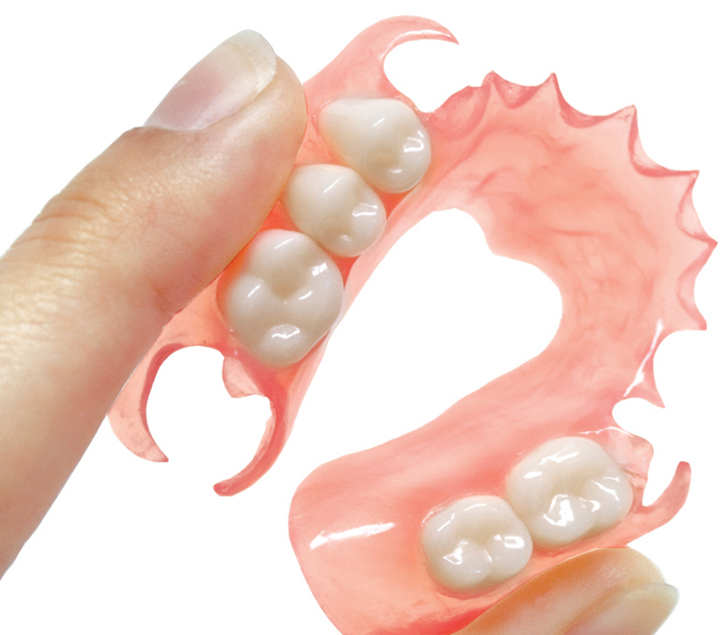 The future of dentistry lies in metal free restorations. The Valplast International Corporation has had this mission for over 50 years
The Valplast Flexible Partial is an unbreakable, removable partial that is very comfortable and lightweight. The durable plastic that snaps securely and comfortably into place around existing natural teeth and gums, completely eliminate the unsightly and uncomfortable metal clasps.
Benefits of Valplast Partials include:
Life-Time Guarantee
Affordable
Virtually invisitble
Comforable
Unbreakable
Non-invasive
Long-Lasting
BPA-free
Manufactured quickly
Compare Products
| Type of Restoration | Pro | Con |
| --- | --- | --- |
| Side-plate/Nesbitt | Inexpensive | Unattractive, breakable, temporary, non-retentive, slightly invasive, breakable |
| Metal & Acrylic | Affordable | Can be destructive, unattractive clasps, often uncomfortable, allergies |
| Valplast Flexible Partials | Affordable, virtually invisible, comfortable, unbreakable, non-invasive, typically long lasting, non-allergenic, quickly completed | Patient may prefer fixed restoration |
| Crown & Bridge | Permanent, non-visible, comfortable | Expensive, invasive |
| Implants | Permanent, non-visible, comfortable | Very expensive, very invasive, long process to complete |
Contact Valplast Partials
Valplast Partials
#5 – 2082 Ness Ave.
Winnipeg, Manitoba
R3J 0Z3, Canada
Toll free: 1.866.921.1313
Fax: 1.204.953.1229

Lab Depot Ltd is the only Canadian owned supplier of Valplast products. We are located in Winnipeg MB, and Calgary AB. Lab Depot facilitates the training and certification for dental technicians in the Valplast technique at the Valplast International headquarters in New York. We supply a complete line of materials for the manufacture of Valplast flexible partials to labs and denturists in Canada and supplier of Val-Clean products for patients
Lab Depot Ltd is also a full service supplier to dental laboratories and denturists for their materials and equipment. Visit Lab Depot Ltd for more information.